Thank for you taking the time to
inquire about the New Mexico State Veterans' Home (NMSVH), New Mexico's only nursing facility for our country's veterans.
New Mexico State Veterans' Home
992 S Broadway Street
Truth or Consequences, NM  87901
575-894-4200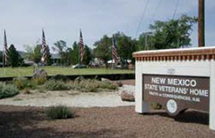 We are proud to serve those that have served us. We welcome your inquiries and encourage you to visit us anytime.
Centrally located in southwestern New Mexico, half way between Albuquerque and El Paso. Nestled in the Rio Grande Valley, we are situated on 12 beautifully landscaped acres, overlooking one of the southwest's outstanding retirement communities.
Mission Statement
The NMSVH strives to provide integrated services in an atmosphere that promotes the physical, social and emotional well-being of every resident. Every effort is made to continuously improve care while safely assisting residents to live as independently as possible and as they choose, thereby assuring dignity and respect at all times.
We will make an individual and team commitment to demonstrate professionalism and pride in all our actions, maintaining an environment of accountability and responsibility to residents and each other.
Vision Statement
Working together to provide the highest quality of care and the best quality of life for veterans and their families.
Admissions
Please examine the eligibility information below, then fill out the Admission Application for New Mexico State Veterans' Home if you are interested in our home.
Who is Eligible?
Honorably discharged veterans with 90 days or more of service and their spouses are eligible for admission.
Preference is given to New Mexico residents when there is a waiting list – but every veteran is welcome to apply. We are not restricted to New Mexico veterans only.
Gold Star Parents, who have lost children in the service of their country, are also eligible.
Certain members of a reserve component of the US Armed Forces who meet the legal residence requirements.
Who is not?
A person whose only separation from one of the US Armed Forces was other than honorable.
A person ordered to report to an induction station who was not actually inducted into the military service.
A person who was convicted of subversive activities against the US after 9/1/1959. Eligibility shall be reinstated if a pardon is granted by the President of the US.
A person with medical or mental conditions beyond the Home's capability to care for them.
A person with a history of violent crime, substance abuse, sexual offenses or who is currently charged with one or more of the above.
Financial Details
Fees and charges for services are established by the New Mexico State Veterans' Home and are subject to change in accordance with applicable laws, regulations and policies.
Ability to Pay
This is the process of assessing residents' income and determining a liability for services provided by the facility.
Maintenance Charge
This is the full amount to be charged to the resident based on the resident's income and resources. Should the resident become a Medicaid recipient, the amount of the maintenance fee shall be the same as the Medical Care Credit. If the resident is not a Medicaid recipient, the maintenance fee shall be determined by the regulation as outlined under this policy. These regulations will utilize Medicaid guidelines to the extent possible.
Financial Payment Contract
Upon admission, the Admission Coordinator will complete a payment contract for services provided by the facility, based on the residents ability to pay.
Healthcare
Coordination Program Director
Mitchell Lawrence
5201 Eagle Rock Ave NE Suite 2A
Albuquerque, NM 87113
(505) 383-2430
NEW MEXICO STATE VETERANS HOME
Admissions Coordinator
Carol Wilson
992 SOUTH BROADWAY
TRUTH OR CONSEQUENCES, NM 87901
(575) 894-4297