When:
May 16, 2023 @ 10:30 am – 11:30 am
2023-05-16T10:30:00-07:00
2023-05-16T11:30:00-07:00
Where:
Please see attached location list

Contact:
New Mexico VA Hospital
505-265-1711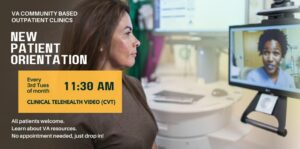 Are you new to VA or just need a refresher on your VA resources? Our VA Community Based Outpatient Clinics will have patient orientation every 3rd Tuesday of each month. No appointment required! In a live telehealth class setting, you'll learn about key VA resources to better assist your health care needs.
Our Community Based Outreach Clinic locations:
Alamogordo 3199 N White Sands Boulevard,
#D10
Alamogordo, NM 88310
Artesia 2410 W Main St Artesia, NM 88210
Durango 970 E 3rd Ave, #102 Durango, CO 81301
Espanola 105 S Coronado Ave Espanola, NM 87532
Farmington 3605 English Rd Farmington, NM 87402
Gallup 2075 S. NM Hwy 602 Gallup, NM 87301
Las Vegas 624 University Ave, #300 Las Vegas, NM 87701
Rio Rancho VA Clinic 1760 Grande Blvd, SE Rio Rancho, NM 87124
Raton VA Clinic 1493 Whittier St Raton, NM 87740 Google Maps
Santa Fe VA Clinic 5152 Beckner Rd Santa Fe, NM 87505
Silver City VA Clinic 2950 Leslie Rd Silver City, NM 88061
Taos VA Clinic 1353 Paseo Del Pueblo Sur Taos, NM 87571
Truth or Consequences VA Clinic 1960 N Date St TorC, NM 87901
In addition, we will conduct patient orientation classes every week on Tuesdays, Wednesdays and Thursdays at our main medical center 1501 San Pedro Dr, SE Albuquerque, NM 87108. Park in the Veteran patient parking lots, and once you enter the main entrance, follow the signs to classroom 1A-100B (located directly behind Starbucks)