When:
June 22, 2019 @ 8:00 am – June 23, 2019 @ 12:00 pm
2019-06-22T08:00:00-06:00
2019-06-23T12:00:00-06:00
Where:
Isleta Casino
110000 Broadway SE
Contact:
Ramus Suina
(505) 920-5047
2019 SWNAVA Isleta Conference 2019 SWNAVA Isleta Conference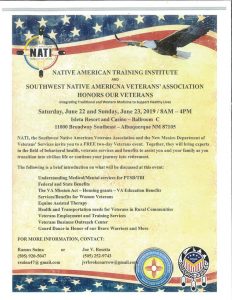 Michelle Lujan Grisham
Governor
Judy M. Griego
Cabinet Secretary
For Immediate Release
June 11, 2019
Two-Day Veterans Health and Benefits Conference to be Presented at the Isleta Resort & Casino
June 22-23
Albuquerque, NM
Isleta Resort & Casino (11000 Broadway SE)
(ALBUQUERQUE, NM)—The New Mexico Department of Veterans Services, the Southwest Native American Veterans Association, and the Native American Training Institute are collaborating to present a Veterans Health and Benefits Conference on June 22-23 at the Isleta Resort and Casino in Albuquerque, located at 11000 Broadway SE.
The free two-day conference begins at 8am on June 22 in the resort's Ballroom C. The first day will be dedicated to presentations on health care, behavioral health, VA, and state veterans benefits available to veterans and transitioning active service-members. Special focus will be on integrating traditional and non-traditional treatment and healthy living modalities.
Among the topics to be discussed are:
The new VA Mission Act
Available medical/behavioral health services for Post-Traumatic Stress & Traumatic Brain Injury (TBI)
Equine Assisted Therapy
VA and state veterans benefits
Women Veteran Benefits and Services
Housing Grants
VA Education Benefits
Health Care and Transportation Options for Rural Communities
Employment and Training Services
the New Mexico Veterans Business Outreach Center
and other available benefits and programs for veterans.
The conference concludes on June 23 with a noon-7pm Gourd Dance—an elaborate and very special traditional ceremony traced back to the Kiowa and Comanche tribes that honor warriors for their bravery and action in battle.
For more information, contact Ramus Suina at rsuina47@gmail.com or (505) 920-5047; or Joe Rosetta at jvrbrokenarrow@gmail.com or (505) 252-9743.