When:
September 26, 2019 @ 11:00 am – 1:00 pm
2019-09-26T11:00:00-06:00
2019-09-26T13:00:00-06:00
Where:
Santa Fe National Cemetery
501 N Guadalupe St
Santa Fe, NM 87501
USA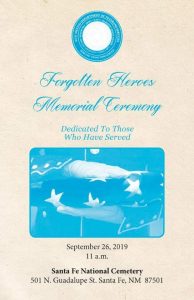 The unclaimed cremated remains of twenty-one military veterans who, upon their deaths, were
indigent or whose body went unclaimed by family members, will be laid to rest at a special Forgotten Heroes Funeral at 11am on September 26 at the Santa Fe National Cemetery, located in the city's north side at 501 North Guadalupe Street.
Their cremains will be interred with full military
honors in accordance with the state's Forgotten
Heroes Burial Program established by the New Mexico Department of Veterans Services–with help from Bernalillo County—to ensure that no veteran will be alone at the end.
The funeral will feature an Honor Guard, Flag Fold presentation, 21-Rifle Volley, and a bugle rendition of Taps—elements of a military funeral accorded to any honorably discharged veteran buried in New Mexico. The public is invited to help provide this "Final Salute" for these 21 fallen veterans who have honorably served our country.