When:
June 7, 2019 @ 5:00 pm – 6:00 pm
2019-06-07T17:00:00+00:00
2019-06-07T18:00:00+00:00
Where:
Albuquerque Interntational Airport
2200Sunport Blvd NM 87106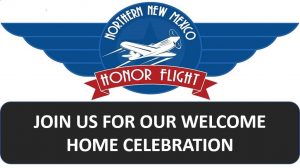 Good Morning, all-
Secretary Griego is asking if anyone who's free on Friday afternoon can attend next Friday's (Jun. 7) 4:30pm arrival at the Sunport…of the Northern New Mexico Honor Flight from Washington DC.
She'll be there.
Honor Flights take WWII, Korea, & Vietnam veterans on a whirlwind 2-day trip to the National War Monuments in Washington DC. This particular flight is leaving at dawn on Wednesday.
It's just a "shaking hands" involvement. Below are photos of previous Honor Flight returnees. (I've attached an old newsletter story showing of an Honor Flight a few years ago)
Let me know if you are free and can be there.
Thanks.
Respectfully,
Ray Seva
Public Information Officer,
New Mexico Department of Veterans Services
(505) 827-6352 office
(505) 827-6323 FAX
www.nmdvs.org
My mailing address:
New Mexico Department of Veterans Services
Office of the Secretary
406 Don Gaspar
Santa Fe, NM 87501
ATTN: Ray Seva/Public Information Officer
(505) 827-6352 office