When:
March 11, 2019 @ 8:00 am – 12:00 pm
2019-03-11T08:00:00-06:00
2019-03-11T12:00:00-06:00
Where:
New Mexico State Legislature
Santa Fe
NM
USA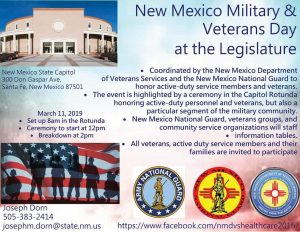 Michelle Lujan Grisham
Governor
Judy M. Griego
Cabinet Secretary, NM Dept. of Veterans Services
Maj. Gen. Kenneth A. Nava
New Mexico Adjutant General
For Immediate Release
February 20, 2019
Governor Lujan Grisham to Lead the Tributes on 2019 Military & Veterans Day at the Legislature
Monday, March 11 (12 p.m. Ceremony)
Santa Fe/State Capitol Rotunda (490 Old Santa Trail)
(SANTA FE, NM)—
Governor Michelle Lujan Grisham is scheduled to lead the tributes to military veterans and active-service personnel on 
Military and Veterans Day at the 2019 Legislature
 on March 11 at the State Capitol in Santa Fe.
This is the annual day during the legislative session presented by the New Mexico National Guard and the New Mexico Department of Veterans Services (DVS) to honor service members and veterans for their military service.
At a noon ceremony in the Capitol Rotunda, the Governor will be joined by DVS Secretary Judy Griego and New Mexico National Guard Maj. Gen. Ken Nava, the Adjutant General of New Mexico, to thank the men and women for their sacrifice for our country.
Every year at this ceremony, a segment of the military is also highlighted. This year, the spotlight will be on veterans who served in Operation Iraqi Freedom and Operation Enduring Freedom in Afghanistan.
The public is invited to join in this annual celebration of New Mexico's service members and veterans. There will be informational tables from 8am-1pm in the east and west wings of the Rotunda staffed by the NM National Guard, DVS, veterans service organizations, and community service organizations.
Veterans and active-service personnel are also encouraged to meet their local legislators to discuss military and veterans issues–and watch the legislative process in action in the state Senate or House of Representatives chambers.